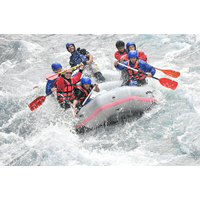 How does a community, town, city, state or province make the top of the list for visitors, new residents, and new business and industry? Most importantly, they need to stand out from their competition.
In this age of fast and easy information, the world is at people's fingertips. With over 1,200 marketing messages bombarding us each day, we tune out everything that doesn't directly appeal to us. An effective community brand can cut through that clutter and grab our attention. When that brand promises us the experience we're looking for, we take notice. A good community brand can attract new business, residents and visitors, helping to diversify the local economy and enhance the quality of day-to-day life for the entire region.
This is the age of specialization - being known for something specific. A brand is what sets you apart; it is people's perception when they think of your community. But branding is often misunderstood, and frequently communities spend too much time and money attempting to create a brand that simply won't work.
Here are the 10 things you need to know about branding:
1. Brands are perceptions
Logos and slogans are NOT brands. Your community's brand is what people think of you - their perceptions. It is what people expect they will see and experience when they are in your area - good and bad. Logos, slogans, graphics and ads are just marketing messages used to support and promote the brand.
2. Brands are built on product
A brand makes a promise, and that promise is built on product. You must have the activities, amenities and ambiance that fulfill your brand promise. Would Napa Valley be the winery capital of the U.S. if they didn't have a large number of excellent wineries and other activities and amenities to back up their claim? You have to BE what you say you are.
3. Brands are earned: sometimes good, sometimes bad
You never just "roll-out" a brand. You must earn it and build it over time. Since a brand makes a promise, it's essential that the promise is fully realized, obvious, and pervasive. Often communities need to focus on a repositioning or rebranding effort in order to change the perception of the community, which can be an arduous and time-consuming process that MUST start within the community.
4. Brands are developed through PR and word of mouth
You always build your brand through public relations; advertising is used to maintain your position, once you own the brand. Remember, brands are perceptions - what people think of you. Advertising is what you think of yourself. You need the third-party endorsement that effective public relations can provide. Start with the web - blogs, YouTube, reviews, etc.
5. Brands must be experiential
Community brands MUST be experiential or activity-driven, not just based on something to look at or a warm and fuzzy feeling. Geography, historic downtowns, scenery and "feel good" slogans are very rarely effective brands. They are part of the ambiance, the stage. People are looking for experiences, things to do. Static attractions that are simply things to see quickly become "been there, done that" experiences, and thus not sustainable brands.
6. Branding is the art of differentiation
Your brand is what sets you apart from everyone else. When someone mentions your community's name, what is the first thing that comes to mind? The name must become synonymous with the brand.
When we mention the following communities, what comes to mind?
• Salem, Massachusetts
• Hershey, Pennsylvania
• Anaheim, California
• Williamsburg, Virginia
These cities' brands are well known and easy to identify. But would you have ever heard of Salem, Massachusetts if it hadn't been for the witch trials that took place over 300 years ago? A brand sets you apart from everyone else and puts you on the map.
7. You must jettison the generic
Avoid, at all costs, the generic in your marketing. If a slogan can be applied to virtually any community, it is too generic, and doesn't make you stand out from the competition. The days of "A Great Place to Live, Work and Play" are over. That's what everyone says about their community. Remember - differentiation. Any community can say "Experience Us,""Four Seasons of Fun,""Fun for the Whole Family,""Unique by Nature," or "Pure and Simple." Do those tell you anything about the community? What you might experience there? Do they give you any reason to go there? Does yours?
8. Say no to focus groups
You NEVER build a brand using focus groups. Period.
If creative services come into your local focus group and sell you on a logo or slogan by explaining what makes it so great, are they going to be there to sell it to everyone who sees it? If a slogan has to be explained, toss it. Focus groups come up with slogans that are generic and designed to make everybody happy. "We have something for everyone." You need to set yourself apart, not try to be everything to everyone.
9. Find your niche, your specialty
Communities need to understand the difference between their primary lures and their diversions. The primary lure is what people can't get closer to home, and it makes you worth a special trip.
Diversions aren't the primary attraction that brought the visitor - people could do diversions closer to home, but they will do them while visiting you as well. Golfing, bird watching, trails, parks, local museums, historic downtowns, wineries and outdoor recreation are usually diversions. (They are sometimes the primary lure - if they're the biggest, the best, or the first.) And it's OK to be a diversion! Eighty percent of visitor spending takes place on diversions. Why do you think Disney built Downtown Disney?
It's critical to promote your primary lure first, diversions second. What makes you worth a special trip?
10. It takes a village
It takes a village to build and own a brand - everyone must be on the same page and pulling in the same direction. Can you imagine what would happen if every Coca-Cola bottling plant designed its own Coke logo, label and ad? The Coke brand wouldn't exist. You are much more powerful as one loud voice than a number of small voices. It is vitally important for the local government, chambers of commerce, business groups and destination marketing organizations to work together to bring a brand to life.
So, what do people think of when they think of your community? What sets you apart from other communities nearby? Is that what you're promoting? Embrace what is unique about your community and promote it - and make sure you're ready to deliver on the promise so visitors will get the experience they're looking for, and want to come back again and again.
---