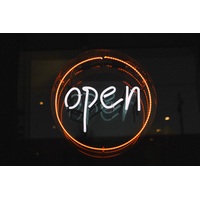 The quote "70% of all consumer bricks-and-mortar spending now takes place after 6:00 pm" was first studied and reported in Alexander Communication's "Downtown Reporter" a couple of years ago. It was also confirmed by the National Retail Federation, independent retail chains, and by mall developers including Simon Properties and Westfield. It was reported in Business Week, the Wall Street Journal and other publications as well.
Consider the following:
We are slowly moving to the European standard – we are eating dinner later and later and we are shopping later and later. This is why retailers and malls in the 70s closed at 6:00 pm and were only open 12 – 5pm on Sundays, but now are open until at least 9:00 pm seven days a week.
Every successful retail mall, every lifestyle retail center (now replacing many downtowns) is open from 10:00 am to 9:00 or 10:00 pm seven days a week.
This is why downtowns are dying at an alarming rate.
Downtowns are transforming into evening hour destinations. Dining, entertainment, cultural arts, special events. The days of buying socks and underwear downtown are, for the most part, over.
Why is it that EVERY SINGLE national retailer stays open late into the evening hours? Walmart, Sears, BassPro Shops, Scheels, Fred Meyer (out west), Lowe's, Home Depot, Staples, Office Max, Best Buy, Safeway, Raley's, Ace Hardware stores, etc., etc., etc. They do it for ONE big reason: During the day people are at work or are at school. When they are OFF work, downtown is closed. So they head to Walmart or to places that are open.
Visitors, during the day, are in Disney World, or are out fishing, hunting, biking, hiking, playing golf, etc. They spend their money at the end of the day – are you open? So this applies to both visitors and local residents as well.
This phrase is backed up by research. Below is a link to a PDF validating the research. The reason my name, Roger Brooks, is associated with it is that I've spent most of my career trying to resurrect dying downtowns. No retail chain, mall developer, lifestyle center developer, outlet mall developer, or Downtown Disney, is going to tell the world about this research. They don't want downtowns to compete with them. So you close at 6:00, they stay open, and they benefit and downtowns continue to die at an alarming rate. This is happening in so many communities. Go to Europe and see it first hand.
We talked to numerous downtowns who have extended their shopping hours and they are seeing HUGE increases in retail sales as a result.
This is retail – not restaurants. Most restaurants are now open until 10:00 pm. Even they are moving later and later, but this research is based on retail sales, not restaurant or entertainment facilities.
---
Click here to download the original research article from Alexander Communications where WE got the data.
In a nutshell, we aren't making these things up, and if you want your downtown to be successful you need to make it a place that people can come and spend time in the evening hours and on weekends.
---