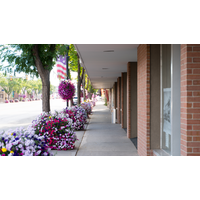 Recently our team was secret-shopping the town of Vernal in Northeastern Utah, using our popular Destination Assessment program. Vernal is near the incredible Wall of Bones National Monument in the heart of Utah's dinosaur country. As we approached downtown, we saw that Main Street was lined with large aggregate planters every ten feet, overflowing with bright, colorful petunias. Plus, there were hanging baskets all along the street, also overflowing with the gorgeous blooms. It was such a spectacular sight that many locals drive up and down Main Street just to enjoy the flowers. Of course, we did too.
As we drove down Main Street, we saw that behind all those gorgeous planters, the retail spaces were mostly vacant. In fact, we saw very few people walking along the sidewalks. There were one or two great shops and eateries that looked attractive, but for the most part, downtown was empty. The city had done their best to make downtown beautiful, but the property owners have done little or nothing to capitalize on the city's investment.
Consider Carnegie Hall. It is one of the most beautiful and renowned concert halls in North America, with ornate frescoes adorning the walls and ceiling, magnificent chandeliers, gorgeous draperies, stunning sets, and velvet covered seats. Magnificent.
But here's the million-dollar question: No matter how beautiful Carnegie Hall is, would you go there if there were nothing happening on the stage? And if you would be willing to go once, just to see it, would you want to come back again with no performance to see?
Many cities spend millions, even tens of millions of dollars, to make their downtowns beautiful, and then find that even though their efforts resulted in a beautiful space, downtown is still dead—void of activity and commerce.
It's what's IN the buildings that The job was only half done. A downtown needs the right business mix. If you don't "orchestrate" the business mix, working with your property owners and downtown businesses to draw customers makes your downtown an attraction—the rest is window dressing. in their doors, then your beautiful streetscapes are a waste of money. They won't increase property values, retail sales and services, or make downtown the place people want to spend time—and money. It's lipstick on a pig, and that's not how you revitalize a downtown.
Here are the three primary steps to turning your downtown into a thriving destination for locals and visitors alike:
Decide what you want the focus of downtown to . If you want it to be about kids and family, then where do you place the carousel? What about interactive water features? A splash pad? Plus the supporting retail shops and eateries that cater to families. If, on the other hand, you want downtown's focus to be about nightlife and entertainment, where are the micro-brews, the eateries with live music, the performing arts venues, street music

and

vendors?

be

Next up, what will it look like? Now that you know what the focus of downtown is, it's important to make it look like that. This is your programming and streetscape plan.
Finally, you MUST work with your property owners and businesses to make sure you have the business mix that will solidify your "brand"—your downtown focus. What do you need to include downtown that will make you THE destination for your particular audience? This is the business mix that will cater to the primary audience you're attracting downtown, for example, toy stores and children's clothing shops for a family focus.
The bottom line is that a streetscape, by itself, is not enough to revitalize a downtown. Don't get me wrong, though, downtown beautification is VERY important as one piece of the puzzle to a successful downtown. You won't find a bigger proponent for beautification than me!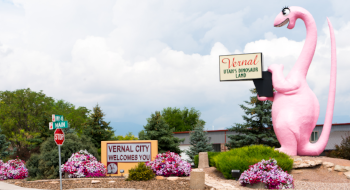 BUT beatification, by itself, will not succeed in revitalizing a downtown. The buildings need to be full of a great business mix. But if you love dinosaurs and want to see and touch dinosaur bones as they were discovered in the ground, Vernal should be on the very top of your list—it's an amazing destination. While there, be sure to enjoy Main Street in all its flowering glory—and hopefully, the property owners will finish the other half of the job: orchestrating and recruiting a successful business mix.
- Roger Brooks
---