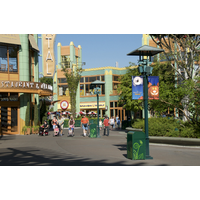 In a lot of my speaking engagements, I use examples from Disney to illustrate points about branding and product development – and with good reason. Disney simply knows how to get it done. They are kings of branding, their marketing is spot on, and when it comes to product development, they have proven time and time again that they have their finger directly on the pulse of what visitors want.
Never content to rest on their laurels, Disney is at it again, making dramatic changes to their Downtown Disney complex in Walt Disney World, Florida. Already an economic powerhouse, Downtown Disney is capitalizing on the fact that the number one activity of visitors is shopping, dining and entertainment in a pedestrian-friendly setting. In fact, this is where 80% of all non-lodging visitor spending takes place. Even with all the other mega-attractions of Disney World, Downtown Disney has been an economic hit for the company. And it is about to get even better.
The shopping and dining complex will be renamed "Disney Springs," and will be designed to evoke a sense of life in the early 1900s. According to Tom Staggs, chairman of Walt Disney Park and Resorts, the project will include about 150 world-class stores and restaurants.
Disney Springs will be divided into four neighborhoods: The Landing, Town Center, WestSide and The Marketplace. As I've always said, name your downtown districts. It makes them destinations, not just geographic designations.
The inspiration for Disney Springs comes from the look and feel of small Florida towns at the turn of the past century. Walt Disney's parents met and married in the town of Kismet, in Central Florida, in 1888. Staggs said, "In our story, Disney Springs grew up around a series of natural springs here in Florida. It became a thriving community," and added it will be a place where guests "feel instantly at home."
Notice he said, "In our story…" Disney didn't just throw together a redevelopment plan around the layout of the buildings or the names of the restaurants. They started with a story. One thing Disney is especially adept at is creating an all-encompassing ambiance. They transport you to another world. They are experts at making their attractions and amenities part of an overall experience, and their changes to Downtown Disney will be no exception. They understand well how to make an exceptional "downtown," and Disney Springs will take their already successful Downtown Disney concept and make it even better.
Downtowns take note: Disney sets the standard for ALL downtowns. Few of us can spend hundreds of millions of dollars to redevelop our downtowns, but we can learn from Disney's successes. Disney clearly realizes the value of a pedestrian shopping and dining district. They make the experience as friendly, warm and inviting as possible; this gets people to stay longer and spend more money. Their shops are open well into the evening hours. They include excellent wayfinding. Their downtowns are beautifully landscaped. They orchestrate the business mix. They employ every one of the 20 Ingredients we use in our presentations. And they are putting even more resources into their Downtown project, showing the rest of us a thing or two about where we ought to be putting our own resources.
A thriving downtown is the heart and soul of a community, and gives both residents and visitors what they really want – a great place to hang out, spend time, and money. Disney knows it and they are working to make their "downtown" even better.
What about yours? What kind of story does your downtown tell?
---