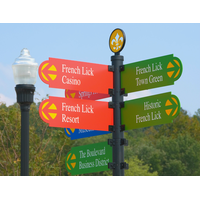 Here is criteria to consider when issuing a Wayfinding RFQ:
– The more experience a firm has in designing wayfinding programs for cities (specifically) the better. If they provide city branding services, that's even better because they will understand the link between wayfinding devices and supporting a brand. More importantly, if a wayfinding designer understands how to support a brand within the signage this will help create a sense of place for the visitor.
– Avoid advertising agencies. They will claim to know how to do city branding and/or wayfinding and can be very convincing. Print designers are accustomed to working in 2 dimensional formats. It is rare they understand how to apply graphics to a 3D element that appropriately conveys the right message to the right audience. For this reason, it is best to avoid designers who only specialize in print and web-based design.
– Avoid architects for this same reason. Some have inhouse wayfinding departments, but your best bet is working with a design firm that offers branded wayfinding as their specialty.
– Avoid fabricators who offer design build services. Fabricators will design a system that is within their ability to fabricate and not to best represent the needs of the city and their brand.
– A wayfinding designer should be fully versed with the MUTCD guide book used by the DOT.
– They must be collaborative and be willing to bring the client into the design process.
– The more a designer is familiar with fabrication techniques, the better.
– A competent designer will be able to provided several preliminary concepts for consideration.
– The designer should be bonded.
– If possible, make sure that a senior designer with 10+ years is on the project and driving design. Wayfinding is not learned in college, nor is it learned in just a few years on the job.
– Look at the designer's portfolio of work. See if the samples clearly convey a brand. The more diverse their portfolio, the better they will work to find a solution that is specific to your needs.
– A wayfinding designer should have experience in dealing with the public. Sometimes the public has to be won over or consensus has to be achieved.
– The designer must be accessible, not necessarily geographically, but within a quick email, phone call or video conference.
– Ask a prospective designer about their wayfinding process. They should practice the basic 5-step approach:
Research/Planning/Programming

Concept Generation

Design Development

Documentation

Production Management
Within this process, they should recommend the creation of one or more full size mockups prior to documentation.
They should also include an Estimate of Probable Cost in their process.

This should help you get started with designing a powerful wayfinding system for your community. If you have any other examples, thoughts or questions, let us know!
---