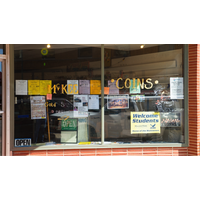 Our hearts go out to retailers, particularly in smaller downtowns, when they are asked almost daily to post a flier in their store window for the next pancake feed, community event, school event, special sale, money-raising benefit, plus posters promoting goods or brands being sold, and the list goes on and on.
You also have your own "open" sign, your business hours, and often something that promotes your own special sale or event.
The challenge? Once you have more than four posters or signs in your display windows, studies show that shoppers will simply ignore them all. Too many posters reduce the appeal of your storefront and block potential buyers from seeing what you have displayed behind the glass.
Here are some general rules to help you deal with the quandary:
Never put up more than four promotional fliers or posters at one time.
Make sure they are NOT text heavy. Rarely will someone stand in front of a shop window for several minutes reading a flier. General rule: No more than 50 words (total) on a flier or poster.
Keep them together: four wide or two top and two below.
Never keep a poster up for more than three weeks. Otherwise, they become "old news" and will be ignored along with any new posters you add. Write on the back of the poster the date it should come down, and every day when you come to work, look at the date. When it's time, remove the "expired" flier.
Make sure the poster will help your business or will promote something you are a strong advocate for, beyond just posting it in your window.
When you have to turn down the next person who asks, just blame us. Or, better yet, have them tell you which of the existing fliers should come down and be replaced with theirs! The goal is to keep your business thriving, and keeping your shop windows attractive and uncluttered will help. This is just one of many little strategies that, when added up, will contribute to continued success.
---