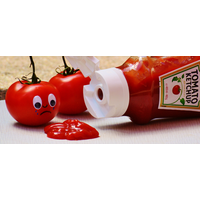 I was working with a group of people in Wisconsin who really put me to the test. The idea was to create a print ad that would actually get the attention of the reader and would pull them in.
Our previous two blog posts have listed the words and phrases to avoid in your marketing efforts, followed by a checklist of what ads need in order to "close the sale." Now it was time to actually put these rules to use.
The group was tasked to come up with a corny saying, a funny quote, or something just ridiculous, and it was my job to turn it into a compelling ad. It was to be a third page print ad you'd see in a woman's magazine, or a travel publication.
After a few minutes one of the gals in the room jumped up and shouted "I've got it!" The line she gave me started with "One out of four people in this country are mentally imbalanced…"
I'll reveal the rest in a minute.
I had 15-minutes to come up with something good. This quote was going to be tough to work with and my palms were getting sweaty under the pressure. I decided to use the quote to market a spa that was just down the street in Wisconsin Dells where we were working. I had just seen one of their ads, which featured the boring, overused header "Beyond Expectations." Would that get you to go online or call for an appointment?
The first thing I did was put the saying at the top of the ad. Then I went to iStock.com and purchased a stock photo of a woman who looked a tad unbalanced, which would be the attention-getter. Then I purchased a second photo of a woman relaxing at a spa.
Here's the initial draft ad I was working with.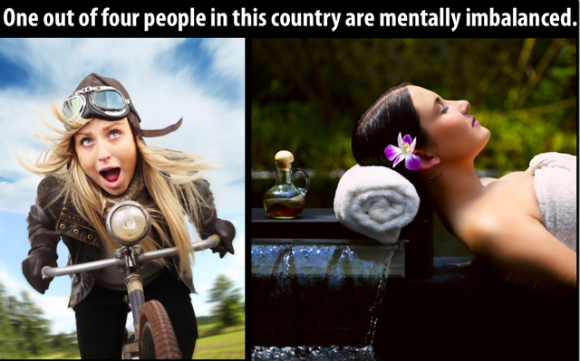 Using these two photos and the zinger of a headline would certainly get the ad noticed. The famous ad guy, David Ogilvy once said that "on average, five times as many people read the headline as read the body copy. When you have written your headline, you have spent eighty cents of your marketing dollar."
I knew I was on the right track here, particularly since the audience was thinking "where's he going with this?". Then came the closer—the body text and call to action.
Here's what the ad said, starting with the headline and the rest of the quote I had to work with:
"One out of four people in this country are mentally imbalanced. Think of your three best friends. If they seem ok, then you're the one."
I concluded with:
"Perhaps it's time you found YOUR balance. Book a spa stay at the incredible Kalihari Spa's "Sanity Retreat" this May. Bring your three best friends and save 30%. Book it right now while you're thinking clearly. www.sanityretreat.com. Only in Wisconsin Dells."
When the audience applauded, I knew that this was an ad that would get some attention. In fact, several women were ready to make reservations on the spot.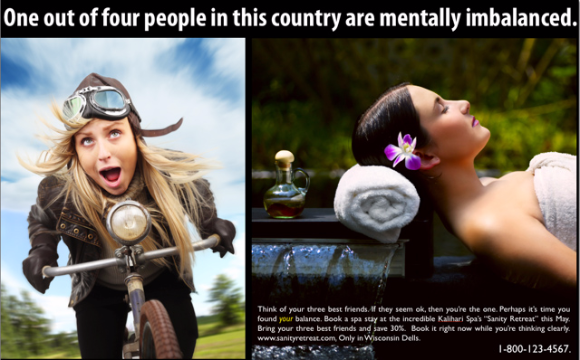 Sure beats "Beyond Expectations." Did you notice I mentioned the spa retreat for May, just before Mother's Day?
Are your ads getting noticed? Is there a compelling call to action?
If this was easy, everyone would be doing it but the bottom line is that you must command the reader's attention. We're exposed to 5,000 marketing messages a day—far more than the mind can absorb. To win you must reach deep and command attention. Sometimes it takes shock and awe. This one was a tad more subtle.
---