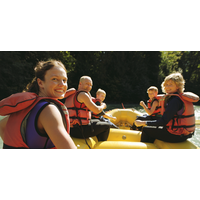 Why should you want to be known as a great destination for multi-generational travelers?
No traveling family group spends more and stays longer than multi-generational travelers. And this group spreads the word about their plans and experiences via social media faster and more frequently than any other set of travelers.
By 2020 there will be 90 million ACTIVE grandparents in the U.S. and Canada alone. And, more than ever, grandparents are making time with their grandkids their top priority—including vacation trips, shorter day-long excursions, and weekend getaways.
Typically, the grandparents and their kids select the destination, and then grandma does the bulk of the planning. You can guess who's footing the lion's share of the bill.
When you cater to this incredible trend (which will be around for the next 20+ years), here are some rules to use in your marketing and product development efforts:
Make sure your experiences are kid-friendly. These travelers want unforgettable adventures for the entire family to enjoy together.
Outline kids' activities by age group: age 2-5, age 6-8, age 9-12, and age 13-17.
Opportunities to learn something needs to be a key factor in what you offer.
Make it easy to plan with customizable, multi-night itineraries, package deals, and most importantly—"All Inclusive" options.
Brainstorm itinerary ideas like river or lake cruises, adventure trips—rafting, ballooning, jeep tours, fishing, interactive science exhibits or wildlife safaris. The more detailed the itinerary, the more likely you are to immediately close the sale.
Offer different lodging options—grandparents may want upscale resort amenities while parents might need condo or AirBnB type facilities.
Provide bikes, rafts, canoes and other recreational equipment at lodging facilities.
Create photo and video libraries geared to the kids.
Your website should include "while you're here" itinerary suggestions, links to accommodations/restaurants, and activity duration estimates.
It takes a lot of effort, schedule managing, and coordination of individual preferences to plan a multi-generational trip. The easier you make it, the more effective your success will be. Check out the Road Scholar website under Intergenerational to get ideas to help create effective itineraries.
Start your multi-gen marketing efforts by developing these "transformative" experiences and formulating itineraries for each season. Build excitement by developing short videos and photography showcasing the primary activities. Work with your local businesses to develop packages (with a range of options)—make sure pricing is transparent.
Give those who visit your website a "Chat Now" or "Live Chat" option to assist with travel planning, especially during evenings (at least a few days a week) and weekends when most planning is occurring.
Multi-generational travelers spend more, stay longer, accommodate more rooms, and tell more people via social media than any other travel group. And, in the process, they also introduce a new generation to you so that when THEY grow up, they can take THEIR kids and grandkids to the places they remember from their youth. A true win-win.
---