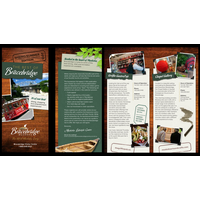 When putting together a marketing plan, we tell communities to promote the best they have to offer. Always. When it comes to print materials, one of the key pieces we recommend is a Best Of guide, promoting the best attractions, restaurants, and retail shops. Putting together this kind of marketing piece can ruffle some feathers, ("why wasn't I included?") but there are important reasons to focus your message on the best of what you have to offer.
Here are the seven things you need to know about promoting the "Best of the Best" of your community:

1. Always promote your "anchor tenants." Shopping malls don't exist without anchor tenants; in fact, they don't begin development until anchor tenants are signed to long-term leases. We go to the mall for the big stores, but while we are there, we stop at the numerous other stores as well. Similarly, would you go to Orlando if Disney World wasn't there? Most people say no, insulting 140 other attractions. But those other attractions have no problem with Disney getting all the glory; Disney is Orlando's "anchor tenant" and all 140 attractions benefit from them being there. And Disney is thrilled they are there making Orlando one of the world's most visited destinations.
The same applies to downtowns. Your "anchors" bring people downtown, but everyone around them benefits from the increased foot traffic and spending. This held true in Ottawa, Illinois; when they produced their best of brochure some people complained that they weren't included. But they soon realized they were getting more business because the anchor tenants brought the customers downtown to their storefronts.
2. Ottawa, Illinois saw their hotel occupancies increase dramatically as a result of handing out their Best Of brochure at the nearby state park. People at the park chose to spend the night in Ottawa rather than heading back home to Chicago – the major market they were trying to attract. And EVERYONE, not just the anchor tenants benefited. Alpena, Michigan just followed suit with their Best Of brochure to great success. Let us know and we'll send you a copy or a PDF file of what their brochure looks like.
3. The vetting process is very deliberate and everyone, if they raise the bar, can and should be included. In Ottawa, non-selected businesses said, "That was the best money I never spent!" When people came into the shops featured in the brochure, they went into their shops as well, even though they weren't featured. Here's a sample of the criteria you might use:
– They must have good curb appeal.
– They must be open at least six days a week and the day they can be closed is Monday.
– They must have good curb appeal.
– They must be open until at least 7:00 pm. (70% of retail spending now takes place after 6:00 pm).
– They must be highly regarded by someone other than themselves: 80+% positive reviews on TripAdvisor, UrbanSpoon, Yelp, and other peer review sites or have been written up in regional magazines and a "must visit" place to shop, dine or see.
4. Even with restaurants, visitors will choose a variety of establishments; they won't always eat at the same place three meals a day. If people see there is a good selection of restaurants, and more people are coming downtown, every restaurant will benefit from the increase in visitors.
5. Promoting anchor tenants brings people into town that might not otherwise go out of their way to visit your downtown. Once people come and get out of their cars, you have a four times greater chance of getting them to spend money. That's why you promote your anchors; they are the "teaser" to entice people downtown, just as in a shopping mall. Most people don't head to the mall specifically for Radio Shack or a Hallmark Store, but once there, they will easily stop in. These merchants ride the coattails of the anchor tenants! Think Orlando and Disney World.
6. No mall, and no downtown, can survive without anchor tenants. We know, we've worked in thousands of towns and the ones that are dying have no anchor tenants – a business where people will go out of their way, specifically, to visit.
7. In your Best Of guide, make sure you ONLY promote your anchor tenants, not everyone in town. It should include your top three to five restaurants, your top three to five retail shops, and your top three to five activities. Each of them MUST be worth a special trip of perhaps 45 minutes or so. Your guide might include anywhere from a dozen Best Of establishments, on up to perhaps 24 or so places. Do NOT include lodging since you want them to hand the guide to their guests and they don't like promoting their competitors. Remember that the number one asked question at any front desk is "where's a good place to eat?" Sometimes that's followed up with "And don't just hand me a list. Where would you eat?"
---