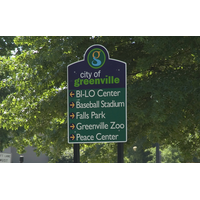 "Christopher Columbus did not stop at convenience stores for directions, and neither will we." Everyone knows real men don't ask for directions! These days we use GPS. Technology is cool. Having to actually ask someone for help is embarrassing, and at times even finding someone around to ask is difficult.
Having worked in nearly 1,000 communities, we can tell you that finding places is by far our biggest frustration. What should be a pleasant experience becomes an exasperating exercise as we drive around, map in hand, wondering why so many communities treat their top amenities as "hidden treasures."
Frustrated visitors spend less time and less money than those that find the places they are looking for, and they seldom come back for repeat visits. You can spend millions of dollars marketing your destination, but if we can't find what you're selling, we decide to move on to the next thing. And, we're gone.
We don't have much patience in this world of immediate gratification, and why should we waste our vacation or business trip time wandering around in uncharted territory, desperately trying to find our destination?
Visitor centers are one answer. But national statistics show only five percent of visitors ever stop at an information center. That is, IF they can find it and IF it happens to be open.
Enter the age of 24/7 "Wayfinding"—a system of signs, gateways, banners and kiosks that helps visitors connect the dots and find their way around, making for a pleasant experience, extended stays in your community and additional spending.
A well-designed system lets your guests know what you have to offer and how to find it—day or night. Your front-line employees will also benefit from your visitors being able to find directions with ease. Their interactions will be with visitors who are not frustrated and angry from arriving too late for the last tour.
A comprehensive wayfinding system includes the following:
Pedestrian wayfinding signage at key locations—downtown districts, attractions,etc.

Vehicular or roadway directional signage

Decorative pole banners

Decorative crosswalks

Visitor information kiosks and displays

Community and downtown gateways

Amenities signage—restrooms, parking, information

Services signage—police, fire, hospital, municipal offices

Marquee signage at specific locations—attractions, parks, museums, cultural arts facilities, government offices,etc.
The best wayfinding systems do much more than simply guide people to their destinations. They make locals and visitors feel at home and welcome. Great wayfinding enhances the ambiance and attractiveness of your community, and it builds and promotes your community's brand or theme.
---