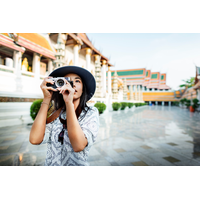 Over the years our team has "secret shopped" more than 1,500 communities around the world. These Destination Assessments are our most popular program. Here's why an assessment can be the best thing you've ever done:
1. We can say things you'd like to say but can't without paying a political price locally. The Destination Assessment is a week-long process where we come to your community, as any visitor would, looking at your gateways, ability to find your attractions and amenities, things to do after 6:00 pm (when the bulk of spending takes place), curb appeal, hospitality, and many other factors, both public and private.
2. For every shortcoming that is noted, a low-cost solution is provided. At the end of the assessment week, we provide a two and a half hour "Assessment Findings & Suggestions Workshop," where, using dozens of photographs, we share our experience. For every challenge we find, we show a possible solution: suggestions showing how retailers, restaurants, museums and cultural activities, and the jurisdiction can make the visitor experience better. Often the Assessment will include 40 to 60 suggestions—things that could be implemented today to make a difference tomorrow.
3. The Assessment brings the community together. The Assessment looks at your neighborhoods, schools, medical facilities, parks, downtown, your historical and cultural attractions, and your amenities, such as parking, public restrooms, to finding visitor information. It's the perfect way to get just about EVERYONE thinking about actions they can take to make the community an even better place to live, work and play. The Assessment provides suggestions that can be implemented by auxiliary organizations such as Kiwanis and Rotary Clubs, hospital and school boards, downtown merchants and associations, the local Chamber of Commerce or destination marketing organization. Often communities will make a list of the suggestions, then hand out "assignments." For the first time, people are singing out of the same hymnal, working towards a common goal.
4. It's the perfect baseline or foundation for your community development efforts. The Assessment is followed up with an "Assessment Findings & Suggestions Report," which provides a baseline for your branding, product development, and marketing efforts. It's an honest look at where you are today from the eyes of a first-time visitor, and it often uncovers things you simply don't even notice, but that visitors do.
5. It provides an incredible return on investment. We continue to have people tell us that they got more from the Community Assessment than they did from plans and studies costing four to five times that of an assessment. There is simply NOTHING that can done for less money, that will bring the community together, and will result in putting the community "on the map" as a desirable place to live, work and visit.
If you'd like to learn more about the Destination Assessment program, here are some resources:
LEARN MORE ABOUT THE DESTINATION ASSESSMENT PROGRAM
---