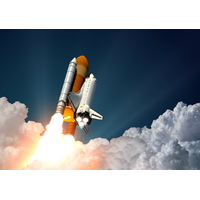 Before she met the wizard, Dorothy lived with Aunt Em and Uncle Henry in a black and white Kansas. When a tornado dropped Dorothy – house and all – into the Land of Oz, the dust settled, she opened her front door, and the world was suddenly brilliant Technicolor. Dorothy scooped up her dog and said, "Toto, I've a feeling we're not in Kansas anymore. We must be over the rainbow!" There was no mistaking that you were now in Oz—it was as different from Kansas as Disneyland is from, well, Kansas.
Any community trying to attract more visitors needs to be a little like Oz. They need to take visitors over the rainbow to a new place, providing them with activities significantly different from what they can find closer to home. They need to tell the world how they're truly unique and worth a special trip. That image, the vision that sets one community apart from all others, is its brand, and branding a community is critical to its success in creating an outstanding downtown destination and increasing tourism spending.
Attracting more visitors hasn't always required such emphasis on being unique. What's brought us to this situation is three-fold: a change in the international psyche, the state of the economy, and the plight of travel.
International Psyche
As we grew up, most of us went on vacations to the places our parents took us: camping in the great outdoors, Grandma's house, locations with scenic beauty, destinations they'd heard about, read about or saw on television. It was the age of the two-week vacation. Kids were packed into the station wagon and the luggage strapped to the roof. For the most part those days are long gone.
The Internet has changed everything, opening our eyes to new places and adventures we have never heard of before. We don't even need to know where we want to go to find a great vacation destination—all we need to do is search for the activity we want, and a wealth of opportunities in different locations is instantly available.
By simply typing "horseback riding South Dakota," into your favorite search engine, you'll find nearly every horseback riding opportunity in the state in just seconds. The same applies to fly fishing, antiquing, concerts, wine trails, farmers markets, boating, and just about any other activity you can think of. For the first time ever, the destination is now secondary to the activity. Locations travelers have never heard of before are now on the first page of search results alongside well-established destinations. And since more than 216 million Americans have immediate Internet access (71%), the web is, by far, the number one resource for travel planning. The playing field has been leveled.
State of Travel
Since deregulation of the airline industry in 1978, air travel has grown five times faster than the population. We have enjoyed inexpensive travel, more direct routes, and air travel has become the norm, rather than a luxury. Well, the bubble is bursting. 2007 was considered the worst year in aviation history in terms of customer satisfaction, and this year is projected to make last year look good. Some airlines are filing for bankruptcy, while others are merging so they can reduce options and routes. Nearly every airline is increasing ticket prices, adding fuel surcharges, and adding charges for third bags, meals and entertainment. Airports are overtaxed with antiquated equipment and over-committed space. According to a recent USA Today/Gallup poll, 45% of all air travelers say they are less likely to fly this year because of rising fares. With increasing delays, cancellations, over-bookings, cramped quarters, and overall aggravation, who wants to fly anymore?
For those planning to drive instead, fuel prices are going through the roof. According to the Travel Industry Association, the "breaking point" for consumers, where people will start to cut back on travel, is at $4 a gallon. Ninety-six percent of leisure travel in North America is by private vehicle, and higher fuel price fluctuations could hit most drive-to destinations hard.
The Economy
With rising travel costs, tighter credit, and a sagging economy, many people are second-guessing the value of extended road trips or booking flights for vacation getaways.
While all this sounds like gloom and doom for the travel industry, the fact remains that people still want to travel. Travel is seen as a necessity now, not a luxury. We love our cars, we love new adventures, and we're reluctant to give those up. What has changed is how we decide where we're going. And this is where the importance of branding becomes paramount.
With the Internet at our fingertips, let's go back to planning that horseback-riding getaway in South Dakota. We search for the activity, but when we see the results and start looking at websites and the location, two powerful questions surface:
1. Could I do this closer to home?
2. If I can't do it closer to home, is this experience so great it will be worth the extra cost and the hassle?
While 94% of web-enabled people use the Internet to plan their travel, 70% are frustrated in their planning efforts. Why? Because most communities haven't yet learned to market activities and experiences. Instead, many still focus their efforts on counties, cities and geographic locations. They also insist on promoting themselves as having "something for everyone."
This all-things-to-all-people mentality does nothing to set a community apart from the competition. It causes as much as 97% of advertising to be ineffective.
Travelers won't go someplace because it has something for everyone—they go places because there's something specifically for them. And every town has "unique shops and dining"—so what is it that makes your shops different? Worth a special trip and the added cost to get there?
With the wealth of options and information on the Internet, travelers are able to find places that cater to their specific desires. They don't want to go to a place that bills itself as"all things to all people." The generic approach of being"unique, just like everyone else," simply doesn't work anymore.
Savvy communities know they need to offer something specific—to fill a niche—or they'll be left behind in the flurry of developing destinations. Every year another 1,500 communities in the U.S. and Canada are coming online in the tourism industry. Competition has never been this fierce. Creating and promoting a primary attraction that sets you apart from everyone else will make your community worth a special trip, repeat visits, and an extended stay.
Welcome to the era of the brand. Simplified, branding is the art of differentiation, finding that one thing that sets you apart from everyone else. Your community's brand is the image or perception that people have of you, and the experiences they can expect when they visit. We are now in the "age of specialization."
Nevada in particular is making impressive progress towards helping its towns become distinctive destinations. When someone mentions Nevada, your first thought is probably Las Vegas, the most successful of the "age of specialization" cities. After 48 out of 50 states legalized some form of gaming, Las Vegas took the brilliant step of removing the gaming focus from their marketing, and branded themselves"the playground for adults." They put together the most successful branding effort in history with tag line and ads promoting "What happens here, stays here," a perfect fit for "sin-city."
The results have been jaw dropping. Since visitors can go to many casinos closer to home, Las Vegas took the focus off gaming and put it on entertainment. As a result, gaming revenues hit a record high of nearly $41 billion in 2007. The city hosted 39.2 million visitors in 2007, second only to Orlando with 48 million visitors. The 137,000 hotel rooms are seeing a 90+% occupancy level, a full 27 points above the national average.
But what about all those rural towns scattered throughout Nevada? How can they attract visitors? Here's a look at what a few of these communities have done.
Hawthorne
A town of only 2,500 residents, Hawthorne adopted the brand and tag line of "America's Patriotic Home." While not unique across America, the brand is unique to the region, and you'll see the largest American flag west of the Mississippi, visible from several miles away, flying proudly above Hawthorne. The town is developing patriotic pole banners and decorative crosswalks, while the tops of buildings will be adorned with stars and strips. The museum of modern weaponry is not to be missed, and their Veterans Day parade is spectacular. There's still much more work to be done to "own" the brand, but they've made great progress.
Lovelock
About 90 miles east of Reno, Lovelock is a town of about 3,000 residents, and the community recently adopted the ancient Chinese custom of locking one's love on a never-ending chain—a perfect draw for a town with the name Lovelock. Go to Lovelock to forever lock your love. Once in town, visitors can buy two heart-shaped locks, have them engraved with their names, and lock them together on the never-ending chain that will eventually wrap all around the county's round courthouse and throughout town. Then post your love story on their website. Buy an extra lock for your rear view mirror or for your office desk. How cool is that?
Tonapah
Here's one struggling mining town that turned a negative into a positive. With its remote location and extremely high altitude (nearly 7,000 feet), Tonapah has an exceptionally dark night sky and nearly 340 days of clear weather. The clear, thin air gives visitors a stunning view of the stars, with the Milky Way easily visible as a shining river across the sky. Tonapah is developing a terrific brand as the "Stargazing capital of North America."
About 90 miles east of Reno, Lovelock is a town of about 3,000 residents, and the community recently adopted the ancient Chinese custom of locking one's love on a never-ending chain – a perfect draw for a town with the name Lovelock. Go to Lovelock to forever lock your love. Once in town, visitors can buy two heart-shaped locks, have them engraved with their names, and lock them together on the never-ending chain that will eventually wrap all around the county's round courthouse and throughout town. Then post your love story on their website. Buy an extra lock for your rear view mirror or for your office desk. How cool is that?
Pahrump
A town of about 30,000, Pahrump is undergoing its branding process right now, although it already has a strong "brand" among RVers. From Las Vegas, RVers head "over the hump to Pahrump," which has one of the highest-rated RV parks in the U.S. The town is conveniently located just an hour from Las Vegas and an hour from Death Valley. While they want to work to becoming more than a just a hub location, it's a great beginning, and the town already has a strong brand among high- spending RV travelers.
About two and a half hours east of Reno, this ranching community is home to about 20,000 residents. A successful Winnemucca High School graduate is investing some of his wealth back into his hometown by developing a $50 million classic car museum. Sure to be one of the most spectacular car museums in the west, Winnemucca, soon to become "Hot Rod Heaven," will be a major destination for auto enthusiasts from throughout the west.
Wells
The remote drive from Salt Lake City west towards Winnemucca takes you through the small town of Wells, which embodies "Life on the Frontier." A resting stop for many pioneers of yesterday and weary travelers of today, Wells is working with local merchants to become a "Must Stop" destination for homemade pies and coffee. And while there, take a look around town and see what life was like on the frontier.
Virginia City
For a true taste of the wild, wild west, Virginia City is a must-see destination. Within an hour's drive of Reno, this popular town was once Mark Twain's home, and still embodies the rough and tumble days of the 1860's gold rush era.
Carson City
Just down the road from Lake Tahoe, Reno, and Virginia City, Nevada's capital city is now an outstanding golf destination. The nine golf courses in the Tahoe, Carson Valley, Carson City area banded together to form a strong branding partnership dubbed"The Divine Nine."For $395 you can buy a "Ticket to Paradise" and play all nine courses. While there, Carson City's restaurants provide some of the best dining in the state. The Divine Dining in Carson City sets it apart from everyone else.
Each community in Nevada is working hard to come up with something that sets them apart from everyone else and makes them worth a special trip. If you love classic cars, the old west, patriotism, stargazing, romance, golf, or great food, there's a town in Nevada that can "deliver on the promise" – the basis for a successful brand. Just "pick your passion" and you'll likely find a town that fits the experience you are looking for.
When Dorothy and Toto landed in Oz, they experienced something dramatically different from life back in Kansas. They met interesting characters and had adventures unlike anything they could have had closer to home. What sets your community apart from the rest? What is that one thing that makes you worth a special trip? Find your niche and promote it like crazy, so that your community can be part of the new age of tourism.
---