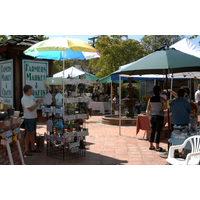 What can a public market do for you?

Public markets have skyrocketed in popularity in recent years. People are gaining interest in locally grown, organic foods as well as locally made goods, and they enjoy the sense of community at the market. What can a public market do to make your community a better place?
1. A successful public market is a catalyst for local business. A market will bring in customers who not only shop at the market, but at local businesses as well. An Oregon State University study found that as many as 66% of market customers shop at other area businesses once they're in town for the market.
2. Public markets create a gathering space. Far from being just a shopping center, a market creates connections between residents, artisans, farmers and the community as a whole. It is a place to hang out, shop and spend not only money, but time. A large publi market might host not just vendors, but events, classes and other community-building endeavors.
3. They give local residents access to fresh, locally grown food, and often affordable organic food, increasing the health of the entire community.
4. They become the center of a neighborhood, instilling pride in the community.
5. A successful market encourages visitors and enhances tourism, as well as giving local residents a place to hang out. For example, the Pike Place Market in Seattle is the largest tourist attraction in the Pacific Northwest and a popular spot for locals as well.
6. A market can create a pedestrian friendly area that links other area attractions and neighborhoods.
7. Public markets can aid in revitalizing a downtown as a retail shopping center for residents and visitors, bringing much needed cash and foot traffic to a downtown core.
If your community wants to add interest and activity to your downtown, consider how a public market might impact your revitalization efforts. They have the potential to attract new customers, increase business, and create a sense of place that makes downtown a vibrant and thriving destination for locals and visitors.
---