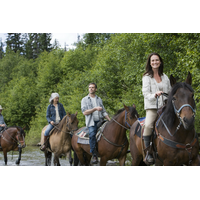 We've been saying for years, we're in a new age of marketing. When we posted about The Dinosaur Marketing Tactics Communities Won't Let Die, we got some questions about "Visitor's Guides" versus "Activities Guides." It is definitely something worth elaborating on, and a lot of communities aren't sure where to go with this type of marketing piece. Do we still need printed guides? What's the point in calling it an Activities Guide? Is it simply the same thing with a new name?
These days, consumers are looking for things to do, not just places to go. They want experiences rather than landmarks. Part of the reason for changing to an "Activities Guide" is simply because people respond better to the title. It tells them the guide is focused on things to do, which is primarily what they are looking for. The name tells a potential visitor that this guide is going to answer their question, "What can I DO there?"
Within the guide, the focus remains on the available activities. Instead of structuring the guide around locations, or listings of hotels, restaurants and amenities, the content should be focused on TYPES of activities. This groups things for people to DO (remember – they want experiences) according to potential categories of interest. Chapters or sections might include:
– Kids and family
– Sports
– The great outdoors/recreation
– Photography and wildlife
– Culinary experiences
– Girls weekends (shopping, dining, spas, nightlife)
– History
– Nightlife and entertainment
– The arts (performing, visual, artisans in action)
Think like a travel writer! Millions of people subscribe to travel publications because they provide specifics, while communities often market themselves by providing generic lists of "things." People are looking for experiences – things to do – so provide sample itineraries, with specific places to shop or stop for lunch or dinner, and how much time to spend at attractions. The easier you make it in this age of convenience, the more likely you'll be to close the sale. Itineraries are huge now – as long as they aren't too structured and allow for flexibility.
Do you still need to print guides? Absolutely! Just not as many as in the old days. People do get much of their information online, but still like having a printed piece. We like having that booklet or brochure in our laps while we cruise in the car and explore the area. And there's nothing quite as fun as getting a requested guide in the mail – something we can look at over dinner, in the bathroom, at a restaurant while we're not "plugged in." Most people don't consume ALL of their content via a computer screen, although it's headed that way.
Overall, make the focus of your marketing the experiences people can get in your community (especially those things they can't get closer to home!) Focus on what there is to DO and you'll be speaking the consumer's language.
---