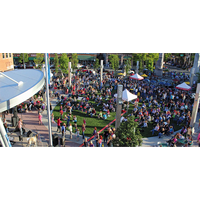 I'll never forget one of my first conversations with Michelle Lintz, the former (and now retired) Director of the Rapid City, South Dakota Convention & Visitors Bureau. She had contracted with us to develop a tourism development plan, and I wanted to convince her to focus on the downtown core.
We had secret-shopped the city and surrounding area using our popular Destination Assessment program, and during the Assessment Findings & Suggestions Workshop, I referred to downtown Rapid City as the "hole in the middle of the doughnut."
Within a 30-minute drive from downtown Rapid City are some of America's best, most iconic attractions:
Mt. Rushmore National Monument

Sturgis, home to the largest motorcycle rally in the world

Crazy Horse Memorial

The historic Western town of Deadwood

The Black Hills, legendary for its gold

Badlands National Park

Spearfish Canyon, where Kevin Costner filmed parts of the movie Dances With Wolves
And that's just the short-list. Rapid City hosts more than four million visitors a year and also owns "The Great American Road Trip" brand.
What we learned was that visitors would typically spend the night in Rapid City, get up early, and head out to these attractions. When they returned in the evening, downtown was mostly closed, so visitors headed back to their hotels or on to their next road trip destination.
As I was talking to Michelle, I gave her three statistics that helped chart a new course from the "tourism plan" to a "downtown plan."
The number one activity of visitors, in the world – not the reason they come, but the top activity once they arrive – is shopping, dining

and

entertainment in a pedestrian-friendly setting. In fact, this is where eighty percent of non-lodging visitor spending takes place. Why do you think Disney built Downtown Disney outside each of its parks?

Seventy-percent of all retail (bricks-and-mortar) spending takes place after 6:00 pm. With tourism, people want to spend the night where there's life and activity after they return from a day recreating in the area. Additionally, conventions, conferences

and

trade shows gravitate to places where there are things to do at the end of the day. Is it any wonder that the San Antonio Riverwalk, Orlando, Las Vegas, and large metropolitan areas garner the lion's share of conventions?

If locals aren't hanging out in your downtown, neither will visitors. They go where you go.
Downtown Rapid City is home to the Alex Johnson Hotel, which, at that time, was operating only seasonally with many of the floors permanently closed. The heart of downtown had more than a dozen retail vacancies and a high rate of turnover. Downtown was NOT the place to go hang out, but was generally the place to avoid.
It didn't take much convincing, and Michelle gave the green light to focus on downtown.
At the top of the recommendations list was the conversion of a 65-space (one-acre) parking lot in the center of downtown to a year-round public plaza to be programmed with at least 250 days of activity each year.
Communities have been built around central plazas or piazzas for centuries throughout Europe. We're finally getting the message in North America.
In fact, the top two revitalization strategies in North America include the development and programming of public assembly spaces, or plazas, with a key emphasis on "programmed," and/or year-round public markets – both with a focus on "after work and weekends" programming.
The bottom line: Where people spend time, consistently, retailers will follow. Think back a couple of generations: When people moved to the suburbs, the retail went with them in the form of suburban malls. And downtowns began a generation of declining vibrancy and increasing vacancies.
A third of all suburban malls are now on the "endangered list" as people are gravitating back to downtowns – not for the downtown shopping of yesteryear, but as the community's central gathering place.
Thus, Main Street Square, in the heart of downtown Rapid City, became a reality. Young families began returning to Rapid City. Downtown became THE place to spend time. In fact, Summer Nights, every Thursday during the summer months, sees nearly 13,000 people downtown. Main Street Square's ice rink operates 90 days a year, and the splash pad another 120 days. When you add the concerts and entertainment, vendors, Movies on the Square every Monday night (average attendance of 3,500), all this action and entertainment adds up to at least 250 days of "activity" downtown.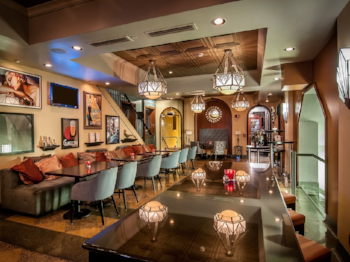 The Alex Johnson Hotel, just a block away, is now fully open and was just rated by Conde Nast Traveler as South Dakota's best hotel, and it's a fabulous up-scale place to stay. Conferences and convention sales are at an all-time high. And downtown Rapid City is now a "must visit" attraction, joining the list of other major attractions that make Western South Dakota one of America's premier and most sought-after destinations.
Also check out Sundance Square in Fort Worth, Texas. Indian Creek Plaza in Caldwell, Idaho. Sir Winston Churchill Square in Edmonton, Alberta. And downtown plazas are soon coming to Topeka, Kansas, and Michigan City, Indiana. This is the future for the best cities and towns – big and small – in North America.
How about your downtown? If you can create activity that will attract your locals downtown at least 250 days a year, retailers will be back – and they will be open the hours the people are there.
Make your downtown the community's living room – the place your residents want to spend their leisure time, gathering with friends and family, having fun, eating, being active and entertained ­– and you are bringing your downtown to life. Merchants will open new shops and restaurants because the people are there. This is "Place Making," and it is the lifeblood that makes YOU the destination of choice, as a place to live, invest in, and visit.
- Roger Brooks
---