The Bottom-line Resource for Community Development | Tourism | PlaceMaking | Downtowns | Economic Development

WHY

JOIN?
There isn't any other organization on the planet that has this level of quality information at your fingertips. The DDA is unique in that it brings municipalities and jurisdictions, tourism professionals, downtown associations, community developers, economic development interests, chambers of commerce, arts, and historical societies together - all sharing common resources, making it much easier to work together, achieving long term success. Notice the two cartoons below: A focus of the DDA is to move from the typical economic development express (left), to one that gets everyone on the same page, pulling in the same direction (right). And that leads to incredible success.
For nearly 40 years, the DDA team has assisted more than 2,000 communities around the world. What we've learned is that when local groups and stakeholders come together and work towards common goals, communities transform into sought-after, vibrant, economically sustainable destinations.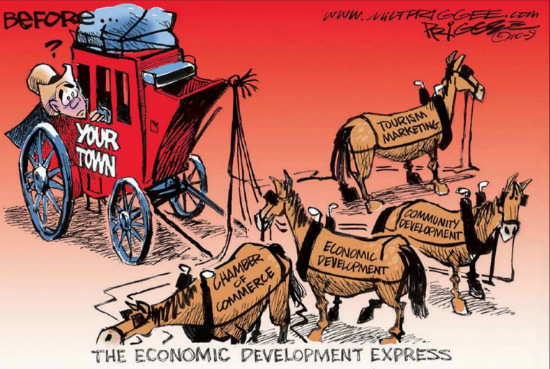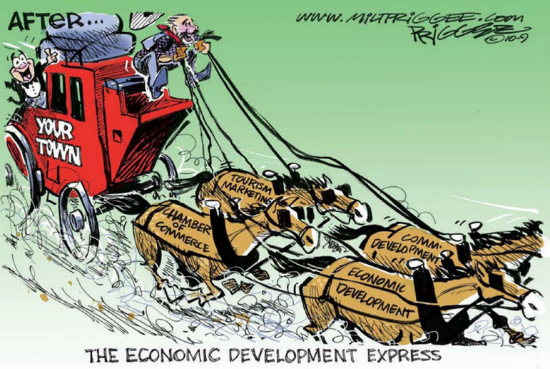 DDA MEMBER

BENEFITS
   - 24/7 access to dozens of how-to videos on just about every destination development subject you can imagine:
      - Place-branding
      - Downtown development & revitalization
      - Tourism development
      - Tourism, downtown and economic development marketing
      - Organizational development
      - Funding options and ideas
      - New trends and statistics to support your efforts
   - Dozens of video case histories shown in high-resolution photography and video clips each offering great ideas you can emulate
   - Downloadable PDF how-to guides and handouts accompanying each video
   - Downloadable PDF sample ordinances and by-laws (for a variety of subjects)
   - Monthly webinars (see our exciting 2020 lineup here)
   - Downloadable posters on the subjects of downtowns, branding, and marketing to help educate your local residents and organizations
   - Discussion rooms where you can share ideas and ask questions of the DDA team and fellow DDA members
   - Access to an incredible brain trust to help you with challenges as they come up
   - NEW FOR 2020: Weekly Quick Tips, Tricks & New Ideas videos (2-3 minutes in length)
   - NEW FOR 2020: Exclusive DDA Member offer: 60-minute 1-on-1 consulting call with Roger Brooks himself $500.00 USD.
   - Perhaps best of all, the DDA is here to uplift, inspire, and empower your community with a fresh "can do" attitude
FREQUENTLY ASKED

QUESTIONS
Each member receives a single log-in. Can I still share the videos with local groups?
Yes. Think of the DDA like you would "Netflix," where you wouldn't share your account information or login, but, like Netflix or any streaming service, you can invite friends and family over to watch a movie. With the DDA, you can invite groups of local stakeholders to come and watch one of the presentations.