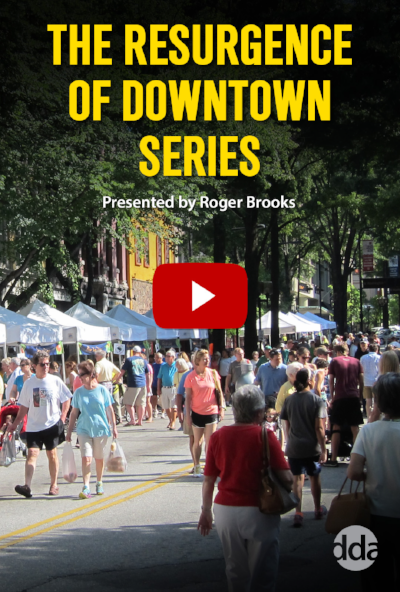 Over the years we've spent a considerable amount of time and effort helping make downtowns great – again. In this photographic-rich series, you'll learn:
Part 1 - WHY downtowns are back and more important than ever. We also touch on the nine things that need to be done to make a downtown great again.
Part 2 - HOW to actually implement the ideas from Part 1. Using photographic examples, we showcase what downtowns are doing, at low cost, to make them vibrant, successful destinations for both local residents AND visitors.
Part 3 - You'll learn how to get people downtown consistently at least 250 days a year. We provide ways to get it started, how to create momentum, costs and funding ideas, timing (a three-year plan), weather and other seasonal considerations - everything you need to know to bring your downtown back to life, making it the central hub and an amazing destination for both your residents and visitors. 
Part 4 - In the final installment of this series we visit four downtowns. You'll see and learn what it looked like before and what they were dealing with, the steps along the way, and the results - which are still a work in progress. After all, no downtown is ever 100% done! This is a great way to actually see, from real-life case histories what it takes to turn a dying downtown (if not already dead) into an amazing destination you'll want to visit - if not move to!
This series will provide you with the tools and strategies you can use to get your downtown moving in the right direction. Get everyone you know to attend this VERY important presentation. It's time to make it all happen!
Videos included in this series:
Part 1: Why Your Downtown Should Be Priority #1 (Length 50min)
Part 2: The Step-by-Step Process (Length 56min)
Part 3: Getting People Downtown 250 Days a Year (Length 1h 6min)
Part 4: What Other Downtowns Did and How They Did It (Length 1h 4min)
Accompanying Resources
Presentation Slides - Part 1
Presentation Slides - Part 2
Presentation Slides - Part 3
Presentation Slides - Part 4
JOIN DDA TO WATCH THIS SERIES NOW - SIGN UP HERE